Kazakhstan's president, Kassym-Jomart Tokayev, has said troops from a Russian-led military bloc will begin their withdrawal from the country within two days.
Tokayev asked for assistance from the Collective Security Treaty Organisation (CSTO) last week to help him regain control, after unrest that left at least 164 people dead.
The deployment, swiftly agreed to by the alliance, led to speculation that it could be used to create a permanent Russian foothold in Kazakhstan. However, Tokayev insisted the withdrawal would begin this week and would be completed within 10 days.
"The main mission of the CSTO peacekeeping forces has been successfully completed," he said, in an address to Kazakhstan's parliament.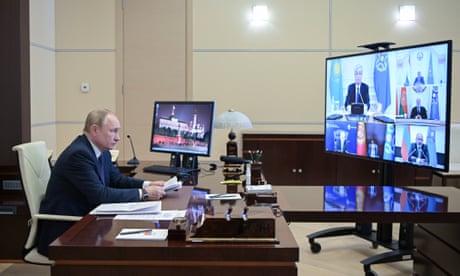 Dmitry Peskov, spokesperson for the Russian president, Vladimir Putin, said the troops would withdraw according to the requested timetable. "It is fully and completely the prerogative of the country which forwarded this request to the CSTO … It is their analysis, and we have no right to intervene in it," he told reporters.
Tokayev ordered a ruthless crackdown last week after protests over rising fuel prices were taken over by violent groups, who attacked government buildings and briefly seized the airport in Almaty, Kazakhstan's largest city. He has described those involved as "terrorists" with shadowy foreign backers.
The interior ministry said on Tuesday that 9,900 people had been detained in the aftermath of the violence.
With the authorities back in control of the country, Tokayev made a range of announcements in an address to Kazakhstan's parliament on Tuesday aimed at mollifying public discontent with the ruling elites.
Tokayev noted that "a layer of wealthy people even by international standards" had appeared in Kazakhstan during the reign of his predecessor, Nursultan Nazarbayev, who ruled the country from 1991 to 2019 and handpicked Tokayev as his successor.
Nazarbayev, 81, has remained absent from public view since the protests began, and Tokayev removed him from his position as head of the national security council last week. The extreme wealth accumulated by many of his family members and allies has contributed to the mood of protest in the country.
Tokayev said these wealthy people, as well as profitable companies, would have to contribute to a new national fund, named For the People of Kazakhstan, which he planned to set up.
"I believe that the time has come for them to give what is due to the people of Kazakhstan and to help the people on a systematic and regular basis," he told parliament. Tokayev ordered the government to draw up a list of companies who would be required to contribute.
Also on Tuesday, Tokayev nominated Alikhan Smailov as prime minister. Smailov was previously first deputy prime minister in the cabinet, which Tokayev dismissed last week.
As well as personnel changes, authorities last week arrested the security services chief, Karim Masimov, a longstanding regime insider and former prime minister. His arrest, on suspicion of treason, has increased speculation that regime infighting was at least partly behind the violence of last week.